The Rib Eye is the most ultimate of steaks, period. It is an awesome cut of beef.
Etymology: The etymology on this is pretty self-explanatory. The "rib" part of the name is because this cut of meat is connected to a rib bone. The "eye" part of the name is a reference to the circular, more centrally located portion of the cut that is more uniform than the outer portions of the cut. You will likely see the Rib Eye steak, or rib chop, called by many names.
For example, the Cowboy Rib Eye is a bone-in version of the cut:
There's also the Tomahawk Rib Eye, which is so named for its resemblance to a Tomahawk-style hatchet. When butchered, a long "handle" of rib is cut clean to expose the bone (it is "Frenched," as they say), and the steak meat is left at the end of the handle to form the hatchet blade:
Here's a shot of my buddy; he's about to get clobbered with a Tomahawk Rib Eye by Chef Josh Capon at Bowery Meat Company:
There's also the Delmonico cut, otherwise known as a Scotch Filet. Applying what you've learned here, you can probably guess that this cut is boneless (filet means "boneless" in French). Delmonico's claims this cut as their own because they named a house special boneless cut Rib Eye steak after their restaurant, way back in the early 1800's when they first opened.
Anatomy: The rib section of beef spans from ribs six through twelve, and, obviously, hails from the rib section of the animal.
Rib Eye steaks are mainly composed of the Longissimus dorsi muscle (the "eye" portion of the steak) and the Spinalis dorsi muscle.
The more anterior your cut, the more Spinalis you'll find in the steak. The Spinalis is the coveted cap of meat that wraps around the fatter end of the steak and usually has much more marbling than the rest of the Longissimus eye, or interior of the steak. That "fat cap" is also sometimes butchered away from the remaining eye.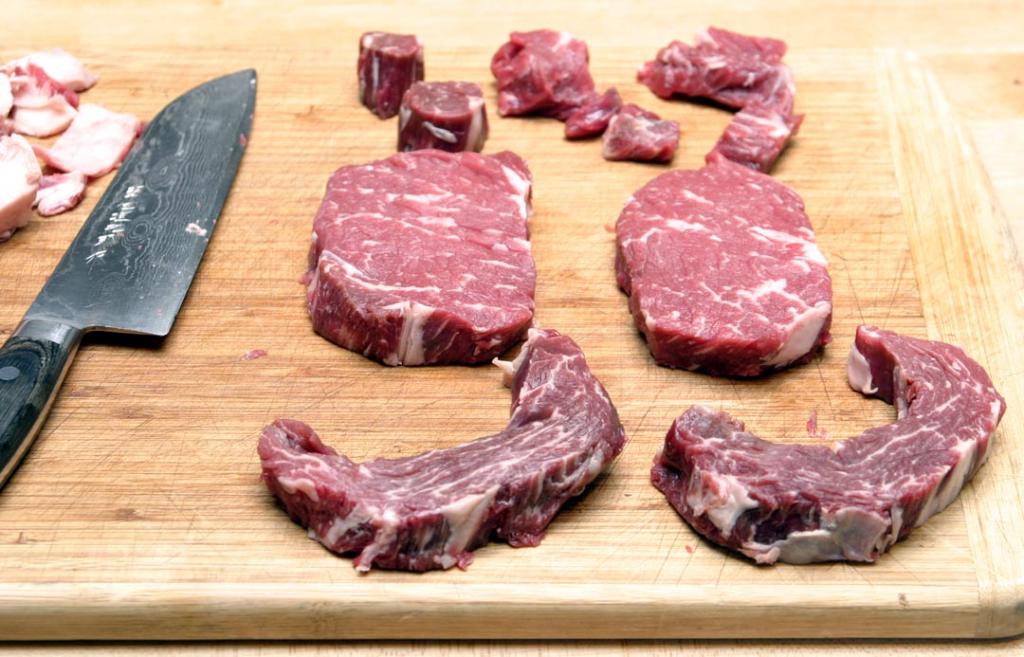 Highly skilled butchers know how to remove it from its position across an entire standing rib roast section of ribs, so as to keep it all together as one giant cut. But then that ruins the rib chop, in my opinion, since you're taking away the best part. Some steakhouses have taken to tying several Spinalis cuts together in a spiral formation to create an all-fat-cap steak. Bowery Meat Company has one such cut, which they call the Bowery Steak:
STK also offers one on special from time to time:
The Spinalis has a more intense marbling, and, thus, much more flavor and tenderness. If you are so bold, the next time you order a Rib Eye at a steakhouse, ask for an anterior "chuck side" cut that has more of this fantastic Spinalis muscle.
Preparation: There are a ton of ways to prepare a rib steak. The most comon forms are searing in a pan, grilling, or broiling. Another common method of preparing this kind of meat is roasting. A "standing rib roast" is a section of Rib Eye steaks that has not yet been portioned into individual steaks.
When this rack of ribs is roasted slow and low to a pink medium rare, the end product is called Prime Rib.
It then gets sliced out into portions for individual consumption. This is a mammoth cut that we got from Burger & Barrel:
I know what you're wondering, and the answer is Yes: Prime Rib and Rib Eye steak are the same exact thing. They are just prepared differently, using different cooking methods.
Cheaper cuts of rib steaks are actually the most common type of beef found in Philly Cheesesteaks as well. The meat is cut super thin and then cooked on a flat top with cheese, onions and other toppings, then shoved into long sandwich bread (incase you're an asshole who has no fucking clue was a cheesesteak is).
Side Bar: is a Philly Cheesesteak better than a Cheeseburger? I think so… Man… Now I'm hungry for both…
Flavor: This steak has a high fat content, and that makes it very important to have a quality cut of beef, or an aged cut of beef. In high quality and aged cuts, this fat will render out or melt away much easier during the cooking process. This will impart a tremendous amount of flavor into the steak, and it will leave the remaining flesh with a very tender and soft texture. Don't be afraid of the fat. Fat is not the same as gristle. Fat is good. Fat is your friend. Any good butcher will get the gristle off and leave the good fat behind. And when that good fat is REALLY good, it's like having a delicious beef jelly with each bite of steak.
As discussed above, the Rib Eye is really like having two steaks in one (The small Spinalis or fat cap, and the larger Longissimus eye). The Spinalis is soft, tender, has lots of fat flavor and sometimes develops a crisp during cooking. The eye is more dense, but still well marbled so that it retains intense flavor. The eye is more uniform than the Spinalis. So: two steaks in one, kind of like the Porterhouse. Plus, there's a nice, meaty beef spare rib to gnaw on at the end, if you order a bone-in chop.
Since there is generally more fat and marbling in this cut across its entirety, you will get better flavors than with the tenderloin or Strip, in my opinion. Clearly, high fat content is not for everyone. If you want to avoid fats in your diet, then go with the tenderloin. I actually really enjoy the flavor of fat. Fat, now, is sometimes referred to as the sixth flavor sensation. There were always four: (1) savory, (2) sweet, (3) bitter and (4) sour. "Umami" claims to be the fifth, and is meant to encompass the earthy, funky, fermented flavor sensations that you experience with mushrooms, truffles, aged beef and blue cheese. I just dislike the word "umami," so I use "earthy" instead. The sixth is "fat," apparently, as decreed by various food people who get paid to sit around and do these things. I'm not sure how it works, but I seem to be able to recognize a distinct sensation on my tastebuds, along with a buttery flavor and slippery feel, whenever I eat shit like pork bone ramen or a Rib Eye steak. Maybe there's something to it?
Anyway, I hope this was an informative and educational post for you meat minions out there. Knowing this shit, I think, is very important.